Bill Callahan & The Bucs
January 11th, 2020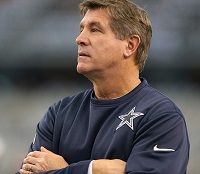 One free agent on the market now is arguably one of the best offensive line coaches of the modern era.
That should have drawn a lot of interest from Bucco Bruce Arians and Jason Licht.
Bucco Bruce Arians knows Joe Gilbert, his resident offensive line coach, isn't in the same league as the guy Joe's referring to, Bill Callahan.
Callahan, 63, was booted from the Redskins recently as the team cleaned house to welcome new head coach Ron Rivera.
Callahan's NFL resumé dates back to the Eagles in the mid-90s and he's had tremendous success over the years coaching offensive line under several head coaches. The guy always has been in demand. He's also got loads of head coaching experience in the NFL and in college. Bucs fans in the good ol' days remember Callahan as the guy who coached against Chucky in the Super Bowl.
Many believe the Bucs' offensive line has underachieved in recent years, including this season.
So now what? Have the Bucs seriously considered Callahan, or did Arians not want to upset his friends and almost-family ecosystem on the Bucs coaching staff?
Currently, Gilbert and assistant head coach/running game coordinator Harold Goodwin share coaching the Bucs' O-line. Gilbert explained on Buccaneers Radio that he and Goodwin split duties evenly.
Joe hopes the Bucs gave Callahan a legitimately look and at least fired up a conference call with him after he was let go. It will be very sad if they didn't.