Alex Cappa Had Midseason Surgery
January 4th, 2020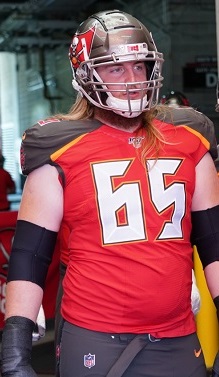 The tough-guy legend of Alex Cappa grows again.
Bucs fans surely remember when Cappa broke his arm against the Saints in early October and didn't come out of the game. The dude played more than a half with a busted limb.
It was a special brand of toughness Bucs fans aren't used to, and then Cappa only missed two games before returning.
What Joe didn't know until listening to offensive line coach Joe Gilbert talk on Buccaneers Radio recently is Cappa had surgery the day after the Saints game. Yep, Cappa needed a freakin' plate put in his arm.
Gilbert gushed about his second-year man.
"I think Cap has come a long way," Gilbert said. 'I'll be honest from watching tape from when we first got here and doing evaluations on the players until now, he has made huge strides. He really has," Gilbert said. "He's a smart guy. Really smart. I know he doesn't talk a lot; he's quiet but he's very, very smart and tough. When he broke his arm and had to get the plate put in it, he played almost the entire game with a broken arm and didn't say a word, didn't come out, and then he's got to get surgery 24 hours afterwards."
Gilbert added that Cappa is the ideal young player because he has so much love for the game.
Joe can't argue with that after Cappa played through a busted wing that needed surgery.
Add Cappa to the list of young Bucs who developed so well this season. Cappa was a late third-round pick. Joe would love to see general manager Jason Licht find another hungry young lineman in Round 3 again.