11 Hours Alongside Bill Belichick
January 9th, 2020
BY IRA KAUFMAN
At the end of a marathon meeting, we walked out both exhausted and inspired.
The Pro Football Hall of Fame had gathered us together in Canton to select the league's 15-member centennial class for induction. The results will be announced Jan. 15, adding two head coaches, three contributors and 10 senior players to the NFL's shrine of excellence.
We examined 38 candidates over 11 hours and the debate was often robust and refreshing. I was joined on the panel by prominent media members and Hall of Fame executives Ron Wolf, Bill Polian and player/GM Ozzie Newsome.
That's a lot of NFL brain power.
Carl Peterson and Hall of Fame player/coach Dick LeBeau were also on hand and yes, Bill Belichick flew into Canton only three nights after his Patriots were eliminated by the Titans.
Belichick's love for pro football history was evident as he weighed in on several candidates. It was clear from the start that Belichick had taken his responsibilities on this committee very seriously and watched a lot of old, grainy film.
He spoke with authority on players from the 1930s and 1940s, touching on how pro football evolved into the game we see today.
Jameis Talk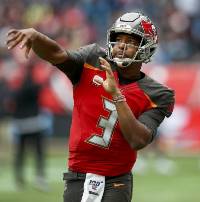 The consensus from the former executives I spoke to was that the Bucs should continue to trust Jameis Winston to be their quarterback in 2020. But none said Tampa Bay would be wise to give Winston a long-term second contract.
Slapping Winston with the franchise tag was the smart way to proceed, they said, noting his penchant for giveaways through his five pro seasons. None of the executives believe an obvious upgrade will be available in free agency, so keeping Winston under center next fall makes sense.
Some suggested the Bucs would be smart to select a quarterback at some point in the 2020 draft to give Bruce Arians more options in case Winston falters out of the gate.
"Thirty interceptions, that's a big number," said one former executive. "But so is throwing for 5,000 yards. You don't move on from that unless you have someone better."
None of the 38 nominees discussed Wednesday had significant Tampa Bay ties. Jimmie Giles was on the original lengthy list of senior candidates, but he failed to make the group of 20 finalists –despite support from Newsome as an underappreciated tight end who could stretch the field.
Coming Out Smarter
I made the presentation for middle linebacker Tommy Nobis, the first overall pick in the 1966 NFL draft. His No. 60 has been retired by the Falcons and he made the All-Decade team of the 1960s — despite finishing an 11-year career without ever playing in a postseason game.
We left the room not knowing which 10 senior players will be earning busts in Canton. The list of 10 contributors, which included former NFL commissioner Paul Tagliabue, was whittled down to a final three.
Two head coaches are headed to the Hall from a group of eight finalists. There's a chance that Jimmy Johnson, who built and coached the Dallas dynasty of the early 1990s, will be fitted for a gold jacket, despite winning only 80 regular-season games.
The 15 centennial picks will be joined by five modern-era players in the Class of 2020. John Lynch, a finalist for the seventh consecutive year, will learn his fate at the conclusion of a Feb. 1 meeting in Miami Beach.
Anytime you can be in a room with Belichick for 11 hours, you can't help but come out a little smarter. He's not preparing for a playoff opponent this week, but he certainly arrived in Canton well prepared.
It was an eye-opening experience, even for a grizzled reporter who covered Belichick as a special teams coach on the 1979 New York Giants, who were led by Ray Perkins and a rookie quarterback named Phil Simms. Decades later, I covered Chris Simms in Tampa.
Yes, it's been a long, strange trip.
Ira Kaufman launched his professional NFL beat coverage in 1979, back when Earl Campbell was the toast of the league and Lee Roy Selmon was defensive player of the year. After a lifetime at The Tampa Tribune, "The Sage of Tampa Bay Sports" joined JoeBucsFan.com in July of 2016. His twice-weekly podcast and three columns per week appear here year-round and are presented by Bill Currie Ford. Tampa Bay's only Hall of Fame voter is a regular on SiriusXM Mad Dog Radio and a part of the FOX-13 Tailgate Sunday show, in addition to his other appearances.