Yeah, Arians Said It With A Straight Face
December 13th, 2019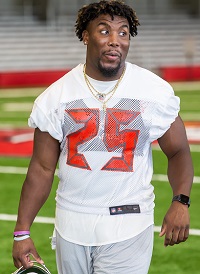 Joe is heading over to the Big Storm Brewing Co. taproom after hearing this gem from Bucco Bruce Arians.
The comment sent Joe immediately out for a walk to reconnect with nature and the balance of the ecosystem.
The Bruce Arians Show runs weekly and those watching it at Buccaneers.com could see Arians was sporting a straight face during the following exchange.
Host Casey Phillips asked Arians, "Which position group have you seen maybe improve the most so far this season?"
"I would say our running backs. Other than a couple of blitz pick-ups, I think they've gotten better and better all season," Arians replied.
Joe is speechless. The running backs?
That answer was as comical as the Bucs running a pre-roll commercial on the video for Hyundai while the show is sponsored by Mercedes-Benz.
Tampa Bay ranks 28th in yards per carry this season. The running game is awful. Remove Jameis Winston's effective scrambling, and that yards-per-carry number is deplorable among the RBs. It's a worse average than the 3.65 yards per carry Peyton Barber and Jacquizz Rodgers combined for in 2018.
Interestingly, Arians implied his safeties had the most room for improvement as a unit. Joe thought Arians was going to say cornerbacks were most improved through the season, or the linebackers, but running backs? Man, Joe will need a little time to get over that.
Joe just hopes the regime realizes something must be done to upgrade at running back next season, mysterious improvement or not.