Will The Bucs Lose Byron Leftwich?
December 15th, 2019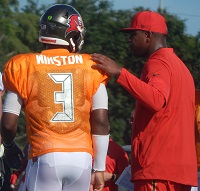 In recent years, NFL fans have seen successful young offensive playcallers become the hot hires when January arrives.
So Joe can't think of a reason why offensive coordinator Byron Leftwich would not garner interest as a head coach in two short weeks.
That doesn't mean Joe thinks 39-year-old Leftwich would be a good head coach; Joe has no clue. But it's not about what Joe or any Bucs fan thinks. It's about what an NFL owner might think about what Leftwich is doing without a decent running back and with an inconsistent quarterback.
The Bucs might have the No. 2 offense in the NFL when the season ends, in yards and in points. They're also likely to have the NFL's leading passer (total yards) and a rather diverse distribution of the ball.
Bucco Bruce Arians has told people all over the country that he took the Bucs job, in part, because he didn't have to call plays and Leftwich would be in place for that stress and responsibility.
Arians, who commands a lot of respect around the NFL, also has made it clear Leftwich is head coach material. And Joe would be stunned if Arians tried to pull any slimy shenanigans to keep Leftwich in Tampa. Joe has no doubt Arians will support Leftwich completely.
If Leftwich, who wants to be a head coach, has a decent agent, Joe expects the rumors of Leftwich getting interest in head-coaching gigs should commence by Tuesday.
Don't worry, fans of the Bucs defense. Joe is certain Todd Bowles won't get any serious interest on the coaching market.