Avoiding Infamy
December 28th, 2019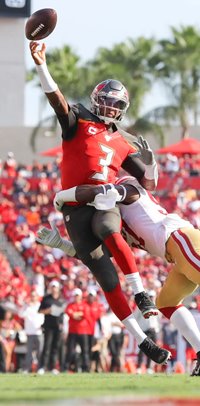 Regardless of the outcome of tomorrow's season finale at the Den of Depression, Jameis Winston will be humiliated by national media if he throws two more interceptions to become the first 30 TD/30 INT quarterback in modern NFL history.
That's just the cold reality. The Bucs could freakin' win 35-14 and all the yakker shows on the big networks will be talking about America's Quarterback perfecting the art of the giveaway.
Joe is very confident Jameis knows exactly where he sits in history with his 31 touchdowns and 28 picks through 15 games this season.
And Joe is certain that reaching 30 interceptions will carry a special level of stench for a guy eager to sign a new long-term contract with the Bucs.
So will Jameis change his game to avoid getting two picks against the Falcons?
Maybe.
Hey, Jameis is human; it would be natural to be extra cautious with the football if, say, he threw one interception and needed just one more to reach 30.
Former Bucs QB Chris Simms said on PFT Live this week that he thought Jameis would just keep slinging the ball because that's who he is and that's what the Bucs offense is about. Co-host Mike Florio figures Jameis will be extra careful.
Frankly, Joe's wondering if the Bucs coaching staff will try where they can to limit risk in order to keep Jameis from the record. Bucco Bruce Arians has worked hard to preserve Jameis' confidence through the season, so it's logical to think Arians will Jameis to avoid infamy.