Vita Vea: Bucs Countered George Warhop; Says He Calls Ndamukong Suh "Big Girl"
December 3rd, 2019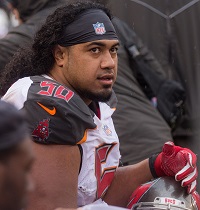 A handful of interesting nuggets from Vita Vea yesterday on the Buccaneers Radio Network.
First, the Bucs' newest offensive weapon said he's gotten help in his fullback role from fellow defensive tackle Beau Allen and linebacker Kevin Minter.
Allen did double-duty at fullback for the Eagles, and Vea said Allen has given him plenty of tips. Vea added that Allen has asked Bucs offensive coaches to play the position here but has been turned down.
As for Minter, Vea implied that his touchdown against the Falcons might not have happened if not for Minter's guidance in practice.
When the Bucs practiced the goal-line play that saw Vea catch a TD, Minter called out Vea for tipping the play. Vea said he was caught looking at the linebackers and obviously was not looking like a guy who was just in to block.
That's the kind of thing he looks for in offensive players, Vita said, so he should have known better and he appreciated Minter letting him know.
Also, Vea noted that former Bucs offensive line coach George Warhop now works for the Jaguars and it was clear that Warhop changed up some of the blocking to try and counter the strengths of the Bucs' defensive line. Vea added that it took a little time to figure out but the Bucs did and it specifically led to the second Shaq Barrett sack that happened after Vea had hold of the QB but lost him.
And lastly, Vea explained that he calls Ndamukong Suh "Big Girl" and Suh is now stealing the nickname and is calling him Big Girl. Nothing to see there.