"Three-In-A-Row Great Too, Men"
December 2nd, 2019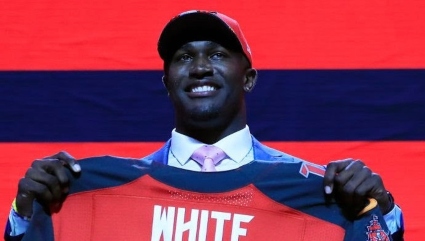 A little postgame locker room intensity never gets old.
What makes this taste of it interesting is that it provides a glimpse of rookie savior linebacker Devin White exerting leadership among his teammates at a time usually reserved for established team leaders.
The official Buccaneers video below was shot immediately following yesterday's drubbing of the Jaguars in Jacksonville.
It's unclear whether the whole team is involved here, but it appears to be. Keep in mind NFL locker rooms for visiting teams are far smaller — almost too small — than the home team's space. So there's really no room for an entire team to gather around in most stadiums.
White's words are ringing in Joe's head after the Bucs won their second straight. "Three-in-a-row great too, men."
White also explained on the Buccaneers Radio Network after the game that the defense's resurgence is part of a greater mentality. "It's just been a mindset, how you want to be remembered."
Enjoy!