The State Of The Bucs
December 5th, 2019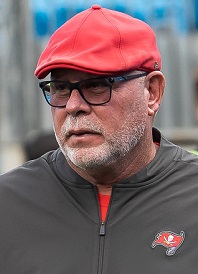 It is too early to evaluate this Bucs team. But with perhaps meaningful games this month — a rare occurrence in these parts — it's fun to see where the Bucs stand.
And while it may to too soon to make any final determination of the State of the Bucs for 2019, that hasn't stopped Jet-flyin', kiss–stealin', data-analyzin', Bucs-film-studyin', limousine-ridin' Thomas Bassinger of the Tampa Bay Times from weighing in.
Bassinger twittered out his thoughts.
Team MVP: Chris Godwin
Breakout: Vita Vea
Disappointment: O.J. Howard
Surprise: JPP playing
Underrated: Lavonte David
Overrated: Running the ball
Buying: Secondary
Selling: Run defense
Franchising: Shaquil Barrett
Throwing away: The uniforms

Your picks? #Bucs #FixTheBucsUnis

— Thomas Bassinger (@tometrics) December 4, 2019
It is hard for Joe to disagree with anything Bassinger writes here. Joe might quibble with the run defense. It's still damn good. Joe suspects part of Bassinger's "sell" of the Bucs run defense is that a team should focus more on stopping the pass in a passing league. That would add up and it's a fair argument.
And while franchising Shaq Barrett is smart, doesn't the team also need to keep Jason Pierre-Paul? Offenses figured out Barrett after his hellacious start to the season and he was a no-show for two straight weeks (both losses) until JPP was activated. Since, Barrett has resurrected his excellent season.
Besides, JPP's leadership is something this team may need more than it lets on.