The Bucs & Josh Cribbs
December 12th, 2019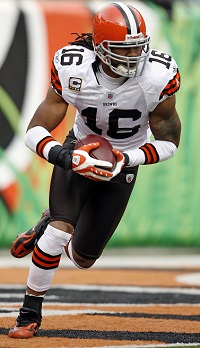 One of the great return men of the 21st century has impacted the Bucs roster.
It's kind of a cool story of how the retired three-time Pro Bowl returner Josh Cribbs indirectly has made his mark.
Bucs wide receiver Justin Watson joined the Salty Dogs podcast this week and explained a pivotal moment that led to him becoming Tampa Bay's new punt returner.
It wasn't Adam Humphries walking in free agency, and it wasn't Bobo Wilson getting cut.
Nope, it had nothing to do with Vernon Hargreaves' release or Scotty Millers' bad hamstring or T.J. Logan's busted finger.
Yeah, those led to Watson getting his shot last week, but Watson said Cribbs told him before he was drafted that, if asked, he should always tell NFL coaches that he can return punts.
Watson never returned a punt in college or high school, he said, but he followed Cribbs advice when he was asked in preseason by Bucs special teams chief Keith Armstrong.
An enthusiastic "yes" to Coach Armstrong, Waston said, led to him becoming the Bucs' No. 5 returner in the summer and then slowly he worked his way up the ladder as roster changes and injuries came. That meant a lot more reps in practice in recent weeks.
After his first return Sunday, Watson said he felt like he'd been doing it for years.