Stretching Aversion And Bruce Arians
December 16th, 2019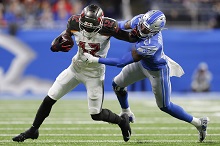 Bucco Bruce Arians did not believe in stretching before practice when he coached the Arizona Cardinals.
ESPN wrote all about it years ago, as did other outlets.
Joe does not know if Arians still follows that philosophy. Obviously, Arians had a lot of success in Arizona, so it's not like he ruined the team with an array of muscle pulls and tears.
Arians is a big believer in sports science and he has staff dedicated to that with the Bucs. Joe can't speak for the job they've done. In late October, Arians was trying to sell that the Bucs had travel-related issues even after coming directly off a bye week. Joe wasn't buying any of that.
One reason Joe brings this up today is because of the hamstring injuries over the past two weeks to Mike Evans, Jordan Whitehead, Chris Godwin and Scotty Miller. Another reason is because former Bucs wide receiver Michael Clayton was blubbering on WDAE radio about rumors he's heard that the Bucs don't stretch.
Clayton was in disbelief.
Joe's not a doctor and Joe does not know Arians' pregame protocols for muscle preparation.
But Joe does know that the goal of every team is to be ready to play at full strength in January.
Injuries happen, heck, the Saints had a ton of players on injured reserve while they won the NFC South last season. But staying healthy is more than just luck.
Arians suggested the hamstring injuries may be on him because he gave too many reps in practice to receivers. He added he'd check with the sports science staff.
Regardless, it's hard to believe all those hamstring issues are a coincidence. Hopefully, the Bucs can get to the bottom of it quickly.