Rich Eisen: Jameis Will Return
December 31st, 2019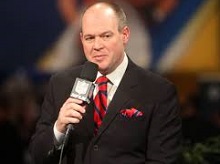 It was a unique year for the face of NFL Network (sorry, Kay Adams). Rich Eisen spent a lot of time around the Buccaneers, which doesn't happen often.
Eisen called the Bucs-Panthers game in England back in October, and he was the play-by-play man for the Texans-Bucs game two Saturday's ago on NFL Network.
And when you're calling games, you get to spend time with coaches and players in pre-production meetings, in addition to mingling with team executives.
Speaking on The Rich Eisen Show yesterday, Eisen noted his time spent around the Bucs and Jameis, and he was adamant that Jameis will return for a sixth Buccaneers season. Eisen was very impressed by how Jameis still put up numbers after Chris Godwin and Mike Evans went down, and he relayed a story about how Jameis told him during a practice leading up the Texans game, a wide receiver walked into the huddle and Jameis had to ask the guy who he was.
"I think [the Bucs] are going to be smart enough to figure it out. Jameis is not wrong when he says to check his numbers," Eisen told his national audience.
Eisen went on to rattle off how Jameis led the NFC in passing touchdowns, led NFL in passing yards, led the NFL in pass attempts, led the NFL in interceptions and was near the top of the league in sacks absorbed.
Also, Eisen was impressed by Godwin and Evans both making the Pro Bowl, the first time a wide receiver tandem accomplished that since 2009.
"This offense, Carson Palmer threw a ton of picks in his first year in it. So did Peyton Manning. I think Winston does stay in Tampa. I really feel that," Eisen said.