Report: Jameis Wants $30 Million+ Per Year, "Would Be Extremely Unhappy With A Franchise Tag"
December 24th, 2019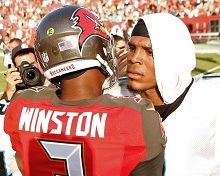 This should make for good Christmas dinner conversation.
A second report from a credible source has emerged regarding Jameis Winston's contract demands.
America's Quarterback's rookie contract expires after this season.
First it was Pat Kirwan of CBS Sports and SiriusXM NFL Radio talking about Jameis' lofty contract demands last week. Today it's JC Cornell, head man of The Draft Network. See his Twittering below. Cornell isn't the biggest name in the land, but what makes his comments especially interesting is that Bruce Arians' son Jake works regularly for the The Draft Network.
Cornell says Jameis wants more than $30 million annually and "would be extremely unhappy with a franchise tag." Poor Jameis, that franchise tag would be only be about $27 million. How could he ever support his family on that kind of haul.
This report reminds Joe of when former Bucs receiver Antonio Bryant moaned publicly about how getting slapped with the 2009 franchise tag for about $9 million would be a hardship.
Joe hopes the franchise tag will be enough for Jameis. He certainly seems like the perfect candidate for it.
#GoBucs scoop on Jameis:

I have heard Jameis is looking for over $30M a year in an extension. Would be extremely unhappy with a franchise tag. There are other markets that would value Jameis much more than Tampa Bay. Chicago comes to mind.

— JC Cornell (@CornellNFL) December 24, 2019