Pick-6's, Jameis And NFL Records
December 22nd, 2019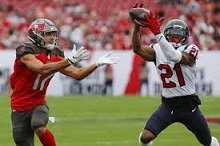 Mark Sanchez, Ryan Tannehill, Derek Anderson and Wade Wilson? They're all joined in the annals of NFL history this morning by Jameis Winston.
Those guys have have all thrown nine career pick-6s. Jameis threw his ninth yesterday, his sixth of the 2019 season.
That tied a single-season NFL record! Six matches Peyton Manning's 2001 season and Rudy Bukich's total in 1966.
Per Pro Football Reference, Jameis is now one behind Cam Newton when it comes to career touchdown throws to the wrong team. Mighty Drew Brees has thrown 27, which is tied with Peyton Manning. Matt Ryan has 16 and Brett Favre is the all-time leader with 32, three ahead of Dan Marino. Yes, Marino threw 29 pick-6s.
On the flip side, Hall of Famer Steve Young threw just four pick-6s in 143 starts. Russell Wilson has just three since entering the league as a starter in 2012.
Josh Freeman and Marcus Mariota each have six.
---
Like To Gamble? You Should Watch, WHAT ARE THE ODDS?
Every week right here and at The Identity Tampa Bay.