Coaching Or Personnel?
December 4th, 2019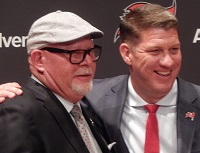 New developments with the Panthers have Joe pondering what feels like a generation-old Bucs question.
What's been the biggest problem in Tampa, coaching or the personnel department?
Joe loves that the Bucs have won three out of their last four games. What a relief! But Joe isn't living in a Candy Land lollipop forest. Those three wins came against crap teams, two of which are imploding franchises.
All fans really know about this Bucs team is that it is 5-7, wildly inconsistent and improved from the absolute trash it was in the first half of this season.
Who gets the credit/the blame?
The Panthers made a firm call. They fired head coach Ron Rivera yesterday but Carolina owner David Tepper put his foot down publicly and said he thinks his general manager is among the best in the game and wants to retain him.
"[GM] Marty Hurney is one of the best recognizers of college talent in the nation. Period, OK," Tepper told his team website, transcribed by ProFootballTalk.com. "I don't want to lose that. And he's also not a bad manager."
So there was an owner making a clear call saying he approves of the talent acquisition and subpar coaching was the greater force in getting the Panthers to 5-7, the same record as the Bucs. Carolina was 7-9 last year and earned a Wild Card berth at 11-5 in 2017.
That brings Joe back to Tampa. The Bucs are loaded with talent on the defensive line and at linebacker. They've got an undeniably potent offense and a solid kicking game. The weakness is the secondary, where the talent remains highly questionable and unproven.
And yet the Bucs sit at 5-7.
A season is 16 games and nobody knows where this one will land. Midseason evaluations of coaches and general managers are fun but ultimately they're woefully incomplete.
The head coach and general manager failed miserably in 2017 and 2018. But who deserves the majority of blame/credit now if you strip away the baggage of the past?
Hopefully, the Bucs find their way to a rousing finish at 8-8 or better, which will restore a lot of fan faith in coaching and personnel. The Bruce Arians regime will be viewed as one that took a solid first step. And it will let Arians and Jason Licht talk all offseason about how the team was one missed kick from 9-7.  That spin-drenched line, if it comes, will drive Joe insane.
Are the Bucs on the right track with their management team? Joe would love to believe that wholeheartedly by this time next month.