Noah Spence Lands With The Saints
December 11th, 2019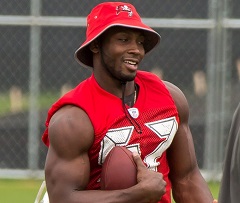 Another chance for Noah Spence, the Buccaneers' second-round pick in 2016.
A member of that brutal 2016 Bucs draft class, Spence was signed off the street today by New Orleans following his short stay with the Redskins after the Bucs cut him at the close of training camp.
Talented Saints starting edge rusher Marcus Davenport (who would be a bench player with Tampa Bay) was just lost for the season with a foot injury and the Saints pounced on Spence after working him out this week, per NFL Network.
What an opportunity for Spence, latching on with a playoff team in mid-December.
It's not the first time Saints head coach Sean Payton has dabbled in ex-Bucs. He had Jacquizz Rodgers in training camp and he signed Cameron Brate in 2015 after the Bucs cut him. But the Bucs signed him back quickly off the Saints practice squad.
Joe can't cheer for the Saints, but Joe wishes 25-year-old Spence well.