"No One Has Stopped Us This Year When I Protect The Football"
December 21st, 2019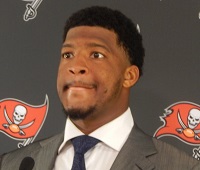 As he should have, America's Quarterback, Jameis Winston, took credit for today's loss to the Texans on national television.
Jameis was brutal, throwing his 25th, 26th, 27th and 28th turnovers of the season. And Joe's not sure any could be blamed on anyone but No. 3.
An edgy and disgusted version of Jameis appeared at his postgame news conference. He blamed himself over and over again,
"No one has stopped us this year when I protect the football. No one," Jameis said.
Among various other takes on his sloppiness, Jameis said he'll be a good quarterback when he protects the football, and then he quickly corrected "good" and changed that to great.
Joe rarely posts a full news conference, but this one is the time investment just for the tension-value alone.