Mike Evans Talks About His Shaq Barrett Surprise
December 24th, 2019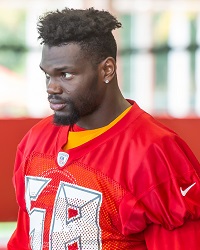 Yes, Mike Evans keeps a close eye on all Buccaneers players, and yesterday he shared a something that stunned him about Shaq Barrett.
Joe had forgotten about this nugget but it is truly telling, and Joe's glad Evans brought it up during his chat on Buccaneers Radio.
Evans noted he was very surprised when he saw Shaq on the field for the Bucs' fourth preseason game of 2019. Starters and the team's treasured players typically don't play in that game, Evans reminded fans, and Shaq suiting up stunned Evans because he had seen Shaq play so well through the summer.
Shaq "dominated" in the fourth preseason game and was pulled rather early, Evans said.
Man, imagine if Shaq had gotten dinged up in that meaningless and nearly worthless preseason game. His mere presence there is a great indicator that Bucs coaches didn't believe Shaq had a 16 1/2-sack season in his 27-year-old body.
Is Shaq a one-year wonder as a Pro Bowl sack artist? Probably. But that doesn't mean he can't be a 10- or 11-sack guy for a couple more years while he continues to deliver a strong all-around game.