Jameis And The Quarterbacks With 23-Or-More-Interceptions Seasons
December 9th, 2019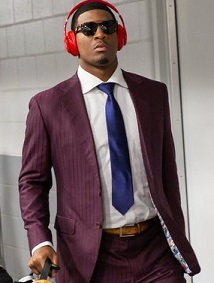 Yes, Jameis Winston now has a whopping 23 interceptions in 13 games this season. America's Quarterback is a generous man.
Only 12 times in the past 20 seasons have QBs hit the 23 picks mark.
Joe has done the homework and it's an intriguing group — and none of their teams made the playoffs.
Here they are:
Eli Manning, 27 picks in 2013
Ryan Fitzpatrick, 23 picks in 2011 (Buffalo)
Eli Manning, 25 picks in 2010
Jay Cutler, 26 picks in 2009 (Bears)
Ben Roethlisberger, 23 picks in 2006
Brett Favre, 29 picks in 2005
Daunte Culpepper, 23 picks in 2002
Trent Green, 24 in 2001 (Chiefs)
Peyton Manning, 23 in 2001
Vinny Testaverde, 25 in 2000 (Jets)
Jake Plummer, 24 in 1999 (Cardinals)
Brett Favre, 23 in 1999
Again, none of their respective clubs made the playoffs, though some of the teams were decent. Perhaps the most notable was Testaverde in 2000; he threw six picks in the final three weeks as the Jets went from 9-4 to 9-7.
Of course, all the interception machines noted above had long NFL careers and earned gobs of cash. And plenty of the teams represented above had garbage defenses (see Peyton Manning of 2001).
What's the lesson here? If there is one, it's not to throw 23 interceptions because you won't make the playoffs.