No Run Game = Jameis Return
December 10th, 2019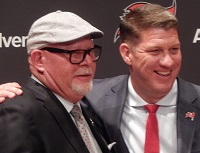 A former NFL quarterback jumped on his national stage yesterday and explained to the world why it will be an easy decision for the Bucs to bring back America's Quarterback, Jameis Winston, for a sixth season in 2020.
Currently a weekday host on SiriusXM NFL Radio, Brady Quinn is known for calling it straight and he disagreed with his co-host Bruce Murray when Murray painted a picture of the Bucs facing a tough decision soon regarding what to do with Jameis.
"I don't think it's tough at all," Quinn said.
Speaking like a true QB, Quinn said he sees what Jameis has to work with and appreciates the numbers he's put up.
"Bottom line is if you look at [Jameis] this year, he's been sacked 41 times. The offensive line play around him hasn't been quite has good. He's already been sacked more than he ever has in his career [in a season]. … So clearly the protection hasn't been as good," Quinn said. "You tell me. Can this team run the football? I guess I'll answer that for you. Because they can't. Every once in a while you'll see Ronald Jones or Peyton Barber step up and have a decent performance."
Joe gave the running game take a standing ovation.
The Bucs have the 14th-most rushing attempts in the NFL but only the 25th-most yards rushing, and they rank 28th in the NFL at yards per carry. That combination is the definition of a miserable rushing attack. And remove Jameis from those rushing stats and it looks far worse for the running backs.
Dangit! Tampa Bay might have been one running back away from the playoffs this season. And that's all on Jason Licht and Bruce Arians.
Quinn went on to acknowledge Jameis has true studs to throw to, and Quinn said the frequency of Jameis pushing the ball down the field in Arians' offense slightly negates his high interception total.
Behind the scenes, Quinn said, Licht and Arians likely have the evaluation mindset, 'All right. Is he doing what we ask him to do?' in part because management knows the Bucs have no running game and a ho-hum offensive line.
Also, the Bucs will believe Jameis is ripe for improvement in his second season in Bruce Arians' season, Quinn said, so a franchise tag is very likely for 2020, or both parties agreeing to a short multi-year deal.