Five Things
December 30th, 2019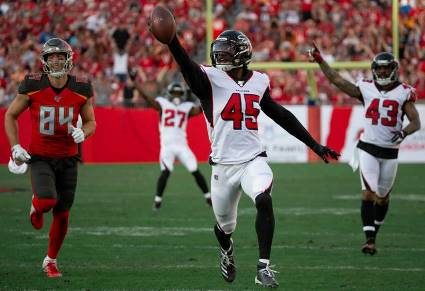 The final "Five Things" Monday morning column of the decade is here on this dreary day. So let's get this over with.
A predictable end.
It was an empty feeling for Joe, leaving the press box to go to the locker room yesterday at the two-minute warning. Joe got downstairs with time left and watched on the TV near the Bucs' tunnel as the Dixie Chicks marched downfield to force overtime.
Moments later, Joe got a text from the good Dr. David Wenk, whose likeness you see in the left margin on this here website.
Wenk texted Joe as overtime began, in so many words, asking Joe how wild it would be if Mr. Entertainment, America's Quarterback, Pro Bowler Jameis Winston, would throw his signature pass in overtime: A pick-six.
No sooner did Joe read that while sitting on a network TV crate just outside the Bucs' tunnel, and Joe heard a roar from the crowd. Joe didn't hear any cannons so initially thought the Bucs made a huge play.
Instead, it was the Dixie Chicks' crowd that was freaking out, and Jameis had indeed tossed a pick-six. Unreal!
Yes, the game was lost on Jameis' proud pitch. His very first Bucs pass was a pick-six and maybe his final pass was a pick-six. You can't make this stuff up.
Joe didn't even bother to go to Jameis' presser. What was the point? He was going to be asked the same questions and he would have the same answers he's been saying for five years. "I've got to get better… I've got to protect the ball." But he never does outside of two- or three-game spurts.
(To Jameis' credit, he has cut down on the fumbles, which drove Joe wild!)
Yesterday Joe noticed a different mood at the podium, perhaps because frustration has set in for everyone. Bucs coach Bucco Bruce Arians was harsh on Jameis like he has never been before and said many times all options are on the table for the starting quarterback position next year.
Jameis, maybe finally realizing his picks may have ended his Bucs days despite being one of the NFL's elite quarterbacks in yards passed, touchdowns and first downs, showed just a hint of insolence in saying he knows he will be the best in the NFL if he can cut down his picks. It was a different side of Jameis than Joe has seen before (on video).
The Bucs are in a pickle. Do they go by history and keep Jameis? Do the Bucs, realizing this team is notorious for giving up too quick on gifted quarterbacks only to see them blow up for other teams and keep Jameis? Do the Bucs look at the history of quarterbacks in the second year under Arians and bring Jameis back?
Or do the Bucs tempt fate and dump Jameis? It's not like they have someone remotely ready to take over on the roster.
Replacing production.
Whine and cry and stomp your feet all you wish about the picks, but Jameis also produces. Big time. So if you get rid of him, the Bucs are going to have to replace a whole lot of production.
And just because you find someone to throw less picks doesn't mean an offense will move the ball as well or better.
If the Bucs do get rid of Jameis, it is unlikely they will find a quarterback to throw for 5,000 yards and 33 touchdowns. So you know what the Bucs must absolutely do if Jameis is done? It's time to quit farting around with the run game and go get a stud.
Honestly, this has been overdue for years. But if you get a lesser quarterback (hey, Drew Brees is a free agent — one can dream) you think this rotten running game is going to save the Bucs next season? Ha! It will be like Raheem Morris' first year with no quarterback and no running game and the Bucs were getting blown out of games.
The Bucs have to draft Travis Etienne or someone like him or trade for a damn good running back (or both), or this team will totally implode offensively without a quarterback comparable to Jameis.
Maybe getting rid of Jameis will force the Bucs to get a good running back? But isn't that like chopping off your foot to repair an ingrown toenail?
Don't forget the real problem.
It seems the folks who want to seal club Jameis are enraged that Joe points out yesterday's pick-six never would have happened if a friggin' kicker makes just one blankety-blank field goal out of the three he missed; the ballgame never goes to overtime. The Bucs win and the freakout over Jameis never happens.
Some call this an excuse. WHAT? So a guy who totally choked on three field goals is an excuse? So missing three field goals was a mirage and they never happened? Good grief! People really are blinded by rage.
Even Arians said flat out rookie kicker Matt Gay cost the Bucs a game yesterday. Thanks to his inconsistent foot, the Bucs have a losing record this year.
And that's not an excuse. It happened. Joe saw it with his own eyes.
But, Joe is guessing it is not cool to call out a rookie kicker for shatting in his pants three times and instead, throw rocks at the guy who threw for 5,000 yards because that's the cool thing to do around town these days. Just because.
Happy man.
Man, Shaq Barrett beasted yesterday. Joe cannot recall a happier man.
Joe caught up with Barrett in the bowels of the stadium as Joe was headed back to the press box. Barrett could not stop smiling but the best thing he told Joe was how humbled he was that Bucs icon and Hall of Famer Warren Sapp was really rooting for Barrett to break his record.
Barrett entered the game yesterday with 16.5 sacks, tied with Sapp for the Bucs' franchise record. Barrett had three sacks, finished with 19.5 and won the crown of the NFL's top sack artist for 2019.
Sapp was on the sidelines and he was fully involved in the game when the defense was on the field. Sapp stood close to Arians and when Atlanta found itself in a passing situation, Sapp began waving his arms for the crowd to get loud. On running plays, Sapp was hollering to guys on the field and clapping encouragement.
After Barrett got the franchise-record sack and later came to the sideline, Sapp was the first guy who met him and Sapp gave Barrett a big bear hug and patted him on the helmet.
Barrett told Joe he was so excited he didn't remember what Sapp told him other than to say "Congratulations."
Barrett was big time impressed that Sapp genuinely wanted him to break the record.
"He's a cool dude," Barrett said of Sapp.
It's been quite a year for Barrett and the new decade will only get better when he becomes a very wealthy young man.
Joe hopes someone locks Barrett in a padded room for the next three months as not to risk any weird injury that may cost him a fortune.
Lot of new faces could be coming.
That Bucs team you wanted to embrace this year the way they got better and better as the season went on? It could be a whole different team next year and who knows if it will be as good. Yeah, it could be better, too.
The Bucs have a boatload of free agents. Ndamukong Suh, Breshad Perriman, Jason Pierre-Paul, Demar Dotson, Carl Nassib, Peyton Barber, Barrett and Jameis are just some.
If/when these guys get to the open market, all bets are off. All it would take is for one team to cut a check. It sure smells like oily Drew Rosenhaus is licking his chops to get his client, Barrett, to test the open market waters.
Yeah, the Bucs are expected to have a bunch of money to play with but how many if not all of these guys should return?
So this team could look a whole lot different than this year. And that may not be a good thing. Should be a busy if not fun February and March.
Thanks for reading this fall. 
So this column gets put in mothballs for the next eight months. That's how long it will be until the Bucs take the field again (not counting preseason schlock).
Joe wants to thank you for reading each Monday. Keep the faith. This should be a newsy offseason for the Bucs for a lot of reasons.
Joe always appreciates your support, even from Joe's haters (there are many). Without all of you, this site never exists and Joe is likely a janitor somewhere. So thank all of you, as always.
Happy New Year!