Dixie Chicks At Bucs TV Map
December 28th, 2019
Unless your local FOX affiliate broadcast signal originates from one of two states, you will be shut out watching the Bucs on free TV tomorrow.
Essentially, only FOX affiliates in Florida and Georgia will broadcast the Dixie Chicks-Bucs game to be enjoyed free in the luxury of your home.
Everyone else, it's either NFL Sunday Ticket or off to your favorite watering hole.
Of course, Joe always recommends local fans take in the Bucs and the full slate of NFL action at Abe's Place in Clearwater. The menu rocks.
Some of Joe's favorite announcers, veteran play-by-play man Tim Brando and three-time Super Bowl champion linebacker Matt Millen, will call the game. Sara Walsh will prowl the sidelines. Too bad Joe won't hear them until Joe watches the replay.
As always, the map is courtesy of 506sports.com.
FOX early broadcasts: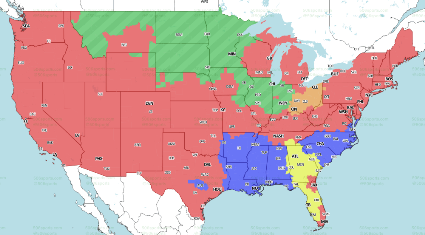 Yellow: Atlanta @ Tampa Bay.
Red: Green Bay @ Detroit.
Blue: New Orleans @ Carolina.
Green: Chicago @ Minnesota.
Brown/Orange: Cleveland @ Cincinnati.