Contract Game
December 28th, 2019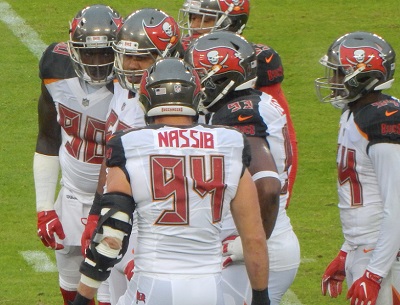 Tomorrow's season finale at the Den of Depression should be a very entertaining affair for one major reason, Joe believes, and it has nothing to do with Jameis Winston's march toward 30 interceptions in 16 games.
Four key, hard-working Bucs along the defensive line are in contract years, which means they will all be playing with their hair on fire to try and score extra cash in free agency.
Jason Pierre-Paul, Carl Nassib, Ndamukong Suh and Shaq Barrett might have a combined $45 million waiting for them in 2020, and Week 17 film is always looked at by general managers. They want to know what kind of fight is in guys after Christmas in a lost season.
Joe expects heroic efforts by each of those players, and throw in Will Gholston having no more guaranteed cash left in his contract. He's due $4.75 million if he makes the 2020 roster, and the Bucs might be the only team willing to pay Gholston that kind of loot.
It's highly doubtful the Bucs would invest in all those guys and they know it, which should add to the drama and intensity against the Falcons.
The Bucs sacked Matt Ryan six times a month ago in the Tampa Bay win at Atlanta.
Too bad Vegas doesn't offer over/under bets on how many screen passes Ryan and Dirk Koetter will call tomorrow.