Career Year Is Official
December 22nd, 2019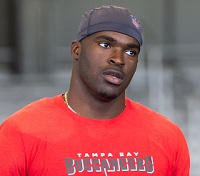 Breshad Perriman has gone from notorious Baltimore draft bust and Browns reject to the cusp of an impressive contract somewhere in 2020.
Consider the totality of what Perriman has accomplished in his last four games, all good performances: 20 catches for 372 yards and 4 touchdowns. Stretched over a full season, that's a pure Pro Bowl pace.
No, Joe is not getting carried away about 26-year-old Perriman. But Perriman has overcome a very slow start to look like the real deal, meaning a guy some NFL team will give a multiyear contract.
His key totals this season are 31 catches for 511 yards and 5 touchdowns. That locks down the best season of Perriman's five-year career. All it takes is one team to see him as a No. 2 receiver in free agency — before they draft a rookie receiver to challenge him for the spot.
The Bucs coughed up $4 million this year for Perriman because Arians liked him while he called multiple Browns games last season for CBS — and watched lots of related prep film.
Keeping Perriman might require $6 million a year over a couple of seasons.