Bucs Could Be Eliminated From The Playoffs Before The End Of Sunday's Game
December 6th, 2019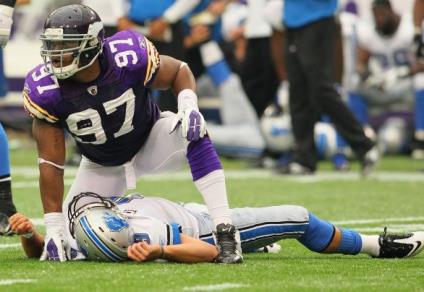 Joe just wants things crystal clear for the wildly optimistic out there.
If the Vikings win their 1 o'clock home game against the sad Lions on Sunday, the Bucs will be eliminated from this season's NFL playoffs.
Joe sees the optimists out there on social media and hears them around town. Joe loves every last one of them but just wants to be sure they have the facts.
There are two NFC wild card spots and the Bucs already have been eliminated from one of them because Seattle and San Francisco each have 10 wins. The Bucs' maximum win total is 9.
So that leaves one remaining spot currently held by the 8-4 Vikings. If the Vikings win Sunday, then they will move to 9-4 but they will lock down the critical conference tiebreaker against the Bucs for the final wild card spot.
Beating Detroit would move the Vikings' record to 7-3 in the NFC, and conference record is the tiebreaker following head-to-head record. (Tampa Bay did not play the Vikings this season.) The Bucs are 4-6 in the conference with two NFC games remaining. So if Minnesota wins Sunday, the Bucs' season is over.
Back in 2010, Tampa Bay finished in a three-way tie for the final wild card spot at 10-6 with the Giants and Packers. Each of those teams also were tied with a 8-4 record in the NFC. The Bucs lost out the next tiebreaker. You can read the official NFL tiebreakers here.
After Sunday, the Vikings still have the Chargers, Packers and Bears on their schedule.
Considering the Rams and Bears have seven wins, the Bucs have an even bigger mountain to climb then just hoping for a historic Vikings meltdown.