Buccaneers 28, Jaguars 11
December 1st, 2019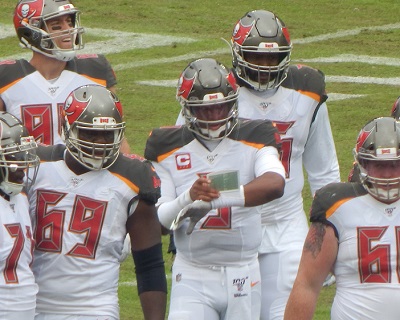 Our beloved Buccaneers are now 5-7 and have won three of their last four games, and for the first time this season they have a two-game winning streak.
Pop the champagne!
Pour the Big Storm!
Tampa Bay played a good half of football and, thankfully, it was enough after a sad second half.
A career day for receiver Brashad Perriman (5 catches, 87 yards) and more excellent play from Mike Evans and Chris Godwin, plus a rather efficient no-interception day from America's Quarterback, Jameis Winston, was a wonderful complement to a special day for the Bucs defense.
Leonard Fournette didn't hurt them and Nick Foles looked like a junior varsity QB playing in his first game. The Bucs' pass rush had him rattled early before QB Gardner Minshew replaced him and gave Jacksonville a spark.
Shaq Barrett racked up two more sacks, a strip, four quarterback hits and probably another couple of million bucks this offseason.
Devin White added a scoop-and-score and an interception, and more confidence as he continues to surge.
The young Bucs secondary had rough moments, but Sean Murphy-Bunting had what could have been a game-saving interception of Gardner Minshew and overall the group certainly did enough. Joe's hoping Jamel Dean's shoulder injury isn't serious.
Next Sunday the Bucs get a struggling Colts team (6-6) that got blown out at home today by the Titans.
Who's ready for three in a row???