"Bad House In A Good Neighborhood"
December 27th, 2019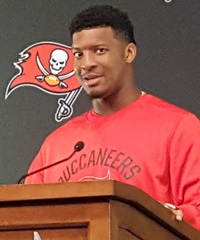 One of the greatest football players in Ivy League history, a former All-Pro NFL defensive end, has weighed in with a special take on America's Quarterback, Jameis Winston.
Marcellus Wiley is usually a fun listen. He's typically prepared and well-versed during his spots on FS1.
After watching another Jameis turnover festival on Saturday, Wiley explained that Jameis is "a bad house in a good neighborhood."
The conversation centered around contract negotiations and Jameis' reported desire for at least $30 million per season when his rookie deal ends in a handful of weeks.
Using the real estate analogy, Wiley explained that Jameis has the "good comps" with the big touchdown and passing yards numbers, so his agents have a case for the big money — or at least enough to start very high.
Wiley reminded fans that quarterbacks live in rich neighborhoods; if you can play, you get paid huge money. And even though Jameis is a "bad house," per Wiley, he's still got the numbers and the talent to be a member of the homeowners association.
Co-host Jason Whitlock scoffed and made the intriguing point that the free agent market wouldn't be too big for Jameis because Bruce Arians is such a great coach. His logic is that coaches around the league will be thinking, 'If Arians couldn't stop the turnovers, I'm not betting I can."