Another One For The Contract Column
December 1st, 2019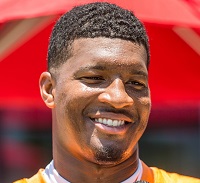 Stocked with another "W," the contract train is moving fast toward America's Quarterback, Jameis Winston, returning for his sixth consecutive season as the Buccaneers starter.
With four games to play this season, Jameis is coming off another Sunday of making special throws and sound decisions, this time without any interceptions in today's beating of the Jaguars.
Jameis finished 21-of-33 for 268 yards with no picks or touchdowns. Another naughty lost fumble for Jameis in the second half, but it wasn't a factor in the 28-11 win.
He spread the ball around, made some gorgeous throws and probably would have had a much bigger day if Byron Leftwich didn't roll out the turtle game plan in the second half.
At this point, Joe is confident only a big Jameis implosion over the final three games will keep him from getting the franchise tag slapped on him this offseason. Joe wrote "three games" because Joe sure hopes the Bucs do the smart thing and start Ryan Griffin in the season finale.
Of course, history says Jameis has another clunker in him before the end of the season. But screw history today.