7 Of 12 Games Vs. Elite Pass Rushing Teams
December 4th, 2019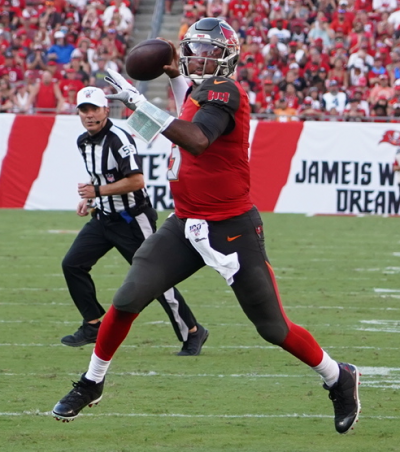 One reason Decision Jameis remains a mystery could be tied to the uniqueness of Tampa Bay's past opponents and what lies ahead.
Some rough football luck found its way to America's Quarterback, Jameis Winston.
Among the teams ranked in the top-6 in sacks through the first 12 games of the season, Jameis has played seven games against those clubs. That's a huge percentage if you stop and think about it.
Carolina leads the NFL in sacks with a whopping 46. The 49ers, Saints, Jaguars and Rams (all Bucs opponents) also are super high on the sacks charts. For those wondering, the Bucs rank tied for 13th in the league in sacks with 33 sacks. And yes, haters, Carolina has done it with Gerald McCoy, who has as many sacks this season as Vita Vea, Ndamukong Suh, Will Gholston and Beau Allen combined.
It's no coincidence that when the Bucs faced Atlanta two games ago, Jameis was hit just once and was not sacked. Atlanta's 18 sacks rank last in the NFC.
Still ahead on the Tampa Bay schedule is the Colts' solid pass rush on Sunday, but then the Bucs and Jameis face very weak rushes in Detroit, Houston and Atlanta to close the season.
With a healthy array of weapons, Jameis should be able to pick all those teams apart. If he does, Jameis is very likely to lead the NFL in passing yards and find his way to 30 touchdowns (he has 22 right now).
Given the gamble that is free agency and the draft, what team in its right mind would dump a 25-year-old quarterback who led the NFL in passing yards and threw 30 touchdowns? Of course, that's just a hypothetical. Jameis also could have one meltdown game, a roller coaster finish, and find his way to 26 interceptions this season.
Regardless, it's worth noting how much the schedule now gets easier for Jameis specifically. He's primed to finish strong.