Which Patrick Peterson Will Show Up?
November 8th, 2019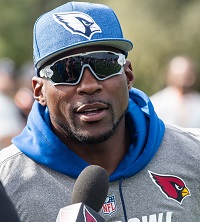 A legendary cornerback will be on the Den of Depression field Sunday and he won't be wearing Bucs colors.
Joe's talking about arguably the key the football game, Cardinals star cornerback Patrick Peterson.
Last week on Thursday Night Football, Peterson was roasted all night in what was his third game in 11 days after returning from a six-game drug suspension.
The consensus in Arizona this week is that Peterson didn't have his legs back and folks believe Sunday is the day they will return after extended rest and the conditioning gained over the past three games.
But there's also a chance Peterson is on a sharp decline at age 29 following eight consecutive Pro Bowls.
Joe has a hunch the former is true, that Peterson is just getting his legs back and will be up for the challenge of shadowing Mike Evans on Sunday in Tampa. Joe would take Evans in the battle, but just don't expect another 150-plus yard day from Evans.
Where Joe is a bit concerned about Peterson is in his knowledge of Bruce Arians' offense. Veteran anticipation often can make up for speed.
Regardless, the Evans-Peterson faceoff should be a fun one.