"My Coach Is Straight Gangsta"
November 16th, 2019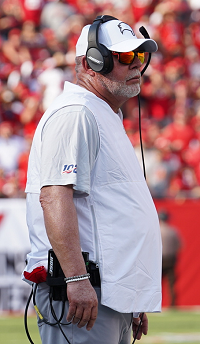 Remember when Bucco Bruce Arians threw a challenge flag in the fourth quarter last Sunday when he didn't have a challenge remaining?
That cost the Bucs a potentially valuable timeout, but Arians said it was an intentional ploy to make a statement to officials.
Do people really believe Arians did that intentionally? Joe is not sure.
All non-believers have missed the point, former Bucs blocking icon wide receiver Michael Clayton says. He told WDAE radio that the Arians move was all about badass inspiration.
"It doesn't matter if we believe it or not. The most inspiring thing is that he said what he said. So now his team is buying in like, 'Man, my coach is straight gangsta. All right. So we're going out here and we're going to turn it up a notch.'

"That's the most important thing, is his energy and how he's carrying himself to bring his team together. It doesn't matter what's true or not. The only thing that matters is how his team responds."
Clayton added that he is in love with the energy Arians brings to the Bucs.
Joe was a bit confused by Clayton's logic. Isn't it only "gangsta" if the players know in the moment that Arians threw the flag intentionally? So did Arians make sure every player knew he was making a statement and didn't just screw up? Joe hasn't heard anyone suggest Arians made sure all players knew he made a gangsta move.
Regardless, the Bucs won and maybe they benefited in some way from the charged timeout.
Joe can't wait to see what mind games Arians has in store for the Saints on Sunday.