Matt Gay? Not Much To Say.
November 25th, 2019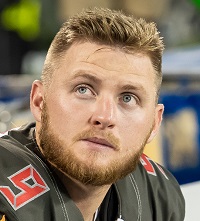 One missed extra point in a game? It happens.
Two? Then you know it's in the kicker's head.
And then the next extra point gets blocked? That was a true NFL rarity seen on the field yesterday in Atlanta.
Bucs rookie kicker Matt Gay had rebounded so well after his horrible missed field goal that would have given the Bucs a win against the Giants in Week 3. That also was the last game in which Gay missed an extra point. And now Bucs kicking temporarily has returned to circus status.
No elements to blame in the Georgia Dome. Nobody to blame but Gay.
Thankfully, the lost points didn't cost the Bucs in their blowout win. Bruce Arians said on the Buccaneers Radio Network after the game that he was relieved Gay made a 32-yard field goal early in the fourth quarter, for the sake of Gay's confidence.
Joe's not freaking out. Gay has shown resilience in his young career.
Let's see what he's got in Jacksonville next Sunday.