JPP Talks Business; Ndamukong Suh Talks JPP
November 1st, 2019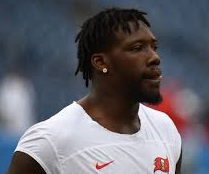 Did Buccaneers doctors initially tell Jason Pierre-Paul that he wouldn't be able to play football again?
That's a very interesting question, one that JPP doesn't want to answer publicly.
Sunday at his locker following the loss to the Titans, Joe asked JPP whether any doctors told him after his May car accident that his broken neck would end his football career.
"I don't want to answer that question. That's a good question right there," JPP replied. That question ended JPP's little news conference but not before JPP said to Joe something like you got your answer right there, "you feel me?"
Joe waited for JPP in the tunnel after he left the locker room for a more private conversation. And while Joe can't speak with 100 percent certainty, Joe would bet a lot of cash that Bucs doctors advised JPP that he wouldn't be able to play again and/or in 2019.
JPP restructured his contract after opening day to make himself a free agent in 2020, in addition to basically agreeing to a heavily incentive-based, non-guaranteed deal for the remainder of 2019.
So how might JPP feel about getting second-guessed by his own team, assuming that was the case? Joe has not heard JPP praise team trainers and doctors since his return. That's rather typical when a player gets back quickly from injury. If anyone has, please forward Joe the quote.
In the final minute of the JPP interview from Wednesday below, FOX-13 reporter Kevin O'Donnell talks to JPP about his re-worked contract. JPP said he wants to play for the Bucs next year but the NFL is a business and he's happy to be a pending free agent. Joe thinks the one-minute exchange is worth watching.
JPP's teammates certainly appreciate him. Ndamukong Suh told Joe that JPP was one of the first people he reached out to when he signed with the Bucs in June.
"It's plain and simple. He's a dominant first-round pick and he continues to prove that week in and week out," said Suh, who's not known for over-the-top praise. "He's a great dude. I'm glad he's a teammate."