"I'm Comfortable"; Bruce Arians Talks Sacks Blame
November 21st, 2019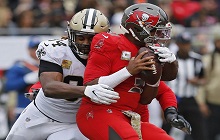 The Bucs' allow 3.6 sacks per game, a very high number by league standards, a full sack more per game than they allowed last season.
Who is to blame?
Head coach Bucco Bruce Arians tossed his share at Jameis Winston on SiriusXM NFL Radio yesterday and downplayed any notion that his offensive line is giving up the booty too often.
Hall of Fame general manager asked Arians if pass blocking from the O-line was a hidden issue.
"I'm comfortable [with the pass blocking from the offensive line]," Arians said. "The one thing, these guys are dependable. They're there every week. [Alex] Cappa played with a broken arm and came back in two weeks. They're there every week. Some of it is coverage sacks; some of it his holding the ball. Though the last few weeks Jameis has done a good job of throwing balls away. You know, it's a combination of those things.

"I never get carried away with sacks as much as why we are having sacks. You know what I mean? I always say, if I'm a left tackle and I block this guy 59 plays and he gets one sacks, I stink, you know, but I blocked you 59 times.

"Sacks, you get 16 sacks, you're going to make 16 million. That's only one play a game. So that's always baffled me how that works. But I think it's a combination of tight ends, you know, we've missed some hots [reads], just throw it away instead of pulling it back down. Just learning the offense."
More growing pains for the Bucs offense, or perhaps just pains.
Joe understands Arians' 59-snaps take on pass blocking from offensive linemen. He clearly puts more of the pressure on the quarterback to feel the pressure, read the defense and avoid the sack via decision-making.