Here Comes The Running Game
November 23rd, 2019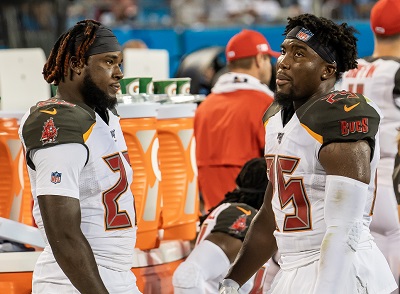 Bad things happen when America's Quarterback, Jameis Winston, throws the ball too much.
No, Joe's not talking about Jameis' blistering turnover pace, Joe's talking about losses.
JoeBucsFan.com columnist Ira Kaufman loves to note how the Bucs are now 0-13 in the past five years when rushing 20 or fewer times in a game.
Bucco Bruce Arians told everyone that his offense would run the ball effectively this season and it was imperative. Sadly, starting RB Ronald Jones is averaging 3.4 yards per carry through his last seven games and the Bucs' overall have a bottom-tier attack from their running backs, based just about every measurable available.
So now what next tomorrow against Atlanta?
Joe is very confident (call it a little birdie in Joe's ear) that Bucs fans will be treated to a much greater commitment to running the football against the Falcons than fans have seen in recent weeks.
Joe's not sure how that will pan out if the Falcons can move the ball at will against the Bucs' soft secondary. No NFL team passes more per game than Atlanta at 41 attempts. But still, count on the Bucs' looking much more balanced tomorrow.
Perhaps that will produce the Bucs' first 100-yard rusher in more than one calendar year?
---
BUCS-FALCONS PREVIEW FROM DERRICK BROOKS & IRA KAUFMAN. An all-new TAMPA TWO, presented by Caldeco Air Conditioning & Heating.