Critical Draft Sunday For The Bucs
November 7th, 2019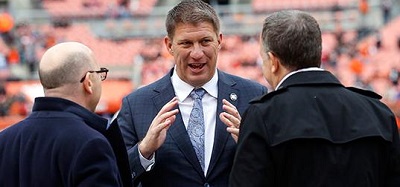 There will be plenty on the line when the Buccaneers kick off Sunday at the Den of Depression, 1 p.m. Eastern time before about 20,000 empty seats and legions of Bucs fans battered by franchise incompetence.
At 2-6, a Bucs victory will feel great, but it will launch Tampa Bay to the three-win mark, which might be hard to overcome if you're dreaming of a top-5 draft pick.
It's just one of those years.
If the Falcons lose in New Orleans (likely), a Bucs win would give Tampa Bay a two-game lead on Atlanta and that could be a draft-related kick in the groin with the likes of the Dolphins, Redskins, Jets, Giants and Bengals out there. (Joe will be keeping a keen eye on Sunday's Giants-Jets scoreboard).
When the whistle blows, Joe always cheers for the Bucs. But Joe is aware of how downright depressing it will be this winter if the Bucs are sitting at 6-10 with, say, the No. 10 overall pick, especially with a division rival picking ahead of them.
Of course, the more the Bucs win, the better the odds of America's Quarterback, Jameis Winston, returning next season because of the potential impact to the draft order. Joe knows that saddens many Bucs fans who see Jameis as a model of inconsistency.
Let's go Falcons! And Cleveland (2-6) needs to get its sorry self in gear and bounce back at home against the Bills.