Significant Change At Running Back
November 5th, 2019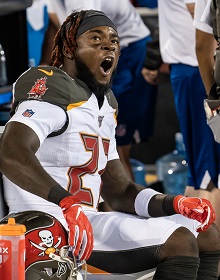 Among NFL running backs with 70 or more carries this season, where does Ronald Jones rank?
Joe has performed the dogged research and Jones lands at tied for 21st with 4.1 yards per carry. It's a good sample size for Jones, who has 92 carries for 381 yards and three rushing touchdowns through half a season.
On Sunday, Jones started against Seattle and had 18 carries for 67 yards (3.7 yards per carry). His longest run was 15 yards, a scamper off right tackle that saw him go untouched for the first 11 yards thanks to Chris Godwin taking out Jadeveon Clowney and Scotty Miller (yes, that Scotty Miller) blocking down field.
Today, Bucco Bruce Arians said Jones made the first start of his career and carried the rushing load because he earned it with his play. Arians also emphasized that Peyton Barber didn't do anything wrong that cost him his job.
Congratulations to Jones, but Joe still believes the Bucs need to address running back in the 2019 NFL Draft, or in free agency.
Even if Jones finds his first 100-yard game this season, he's likely to finish up the year as a very average NFL starter. That represents a big upgrade to what the Bucs have had since 2015, but it's not enough.
Barber is an unrestricted free agent after the season and Joe believes the Bucs should and will move on. This coaching staff believes Dare Ogunbowale is a better third-down and short-yardage option, and Barber is now a backup.
Lots of teams find special running backs in the middle rounds. It's time for the Bucs to finally make that their reality and get a young guy to complement and challenge Jones.