Was Buccaneers' O-Line Too Physical?
November 2nd, 2019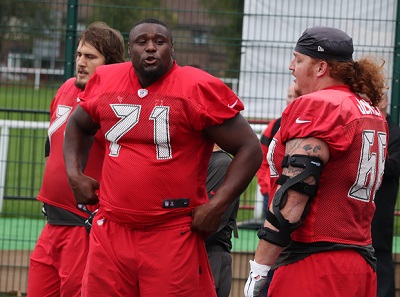 Here's an interesting take.
And Joe must commend this Tampa Bay coach for being so introspective.
Joe and fellow Bucs fans saw the Buccaneers offensive line have arguably its worst day run-blocking last Sunday against Tennessee.
The push wasn't always there and things fell apart too often. Jameis Winston's quarterback sneak was dead in the water, too, before Ronald Jones pushed the pile.
Offensive line overseer/run game coordinator/assistant head coach Harold Goodwin thinks he may be partly to blame. Goodwin told Buccaneers Radio that he so emphasized being physical during game preparation that he thinks it may have led to Bucs offensive linemen being overly physical to the point they lost their leverage after the initial snap and engagement.
It's not often that you hear a coach say something like that.
"A lot of times [against Tennessee] guys are getting their initial block and they're getting thrown off the block," Goodwin added. "You have to maintain those blocks so the halfback can get through the holes and get some yardage."
What's troubling about Goodwin's take that he might have overcoached physicality is the fact that he felt he had to emphasize it so much.
Also, Alex Cappa was out Sunday, so every Bucs starter had five or more seasons of experience. All those guys should now how to manage being physical at the point of attack and carrying that through the whistle.
Growing pains for a struggling run game.
---
Derrick Brooks asks — and studies — whether "the Bucs have what it takes" to win in Seattle like they did in Los Angeles. It's the can't-miss TAMPA TWO show with Brooks and Ira Kaufman presented by Caldeco Air Conditioning & Heating. Another great episode from The Identity Tampa Bay and JoeBucsFan.