"Act Of Will"
November 12th, 2019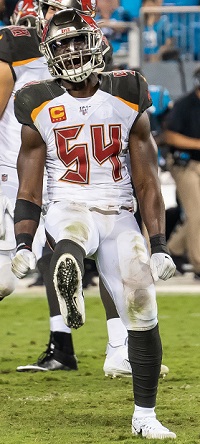 Lavonte David moved up the ranks of NFL history Sunday to sit tied alongside Warren Sapp, London Fletcher, Ray Lewis, Hardy Nickerson and more.
David recorded the 19th forced fumble of his career — halfway through his eighth season.
Yeah, that's right David has stripped has many balls as Lewis did in his 17-year, Hall of Fame career.
Pro Football Reference has been charting the official NFL stat since 1993. Derrick Brooks notched 24 forced fumbles in 14 seasons.
Bucs defensive tackle Beau Allen gushed over David on Buccaneers Radio last night, saying David's strip against the Cardinals was "an act of will," and Allen added he'd like to grow up to be David one day. He called David the perfect leader in the category of leaders he defines as "guys who kind of lead by example and do things the right way."
Allen, who played for the Super Bowl Eagles, said David is the top guy he's been around when it comes to that aspect of leadership.
Allen outlined other types of leaders: "juice guys" and "your rah-rah captain/emotional guys."
Of course, the stats hounds also know David is one of the very best ever at recovering fumbles. Yeah, there's lots of luck in that, but it's no coincidence that a guy like David has his head and heart in the game to be around the football.