TV Map For Saints-Buccaneers
October 5th, 2019
Sunday's NFC South showdown at between the Bucs and Saints will be seen on free TV in parts of 16 states. Sixteen!
All of Florida outside the Miami TV market will be graced with the game on their local FOX affiliate. Joe's readers in Louisville, Kentucky, also will be able to sit at home and watch Chris Myers and Daryl "Moose" Johnston call the game. It's their second consecutive week on a Bucs broadcast.
Everyone else will be heading to the sports bar and blessing their DirecTV.
For those who like respect from national networks, the Falcons at the Texans (two big markets), and the Cardinals at Bengals are each being shown in half has many states as the Bucs game.
Of course, Joe always recommends local fans take in the Bucs and the full slate of NFL action at Abe's Place in Clearwater. The menu rocks.
As always, the map is courtesy of 506sports.com.
FOX 1 p.m. broadcasts: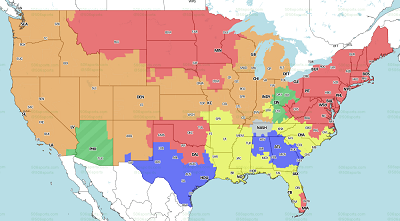 Yellow = Tampa Bay @ New Orleans (Chris Myers, Daryl Johnston)
Red = Minnesota @ NY Giants (Sam Rosen, Charles Davis)
Purple = Atlanta @ Houston (Kenny Albert, Rondé Barber)
Green = Arizona @ Cincinnati (Thom Brennaman, Chris Spielman)
Brown = Chicago vs Oakland (in London) Dick Stockton, Mark Schlereth
Grey = No broadcast