The Watford Files
October 18th, 2019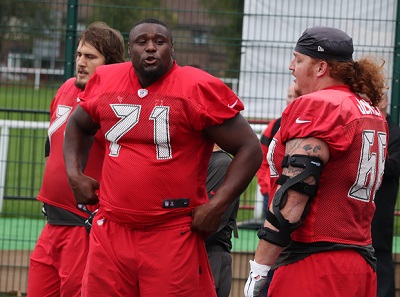 There's a great chance teams around the NFL are calling Bucs general manager Jason Licht this week to ask about the availability of versatile offensive lineman Earl Watford, last Sunday's starting right guard.
Confused?
Joe is not after listening to Bucco Bruce Arians.
After scrutinizing film of the Bucs-Panthers game, Arians said Watford played "really well" in place of Alex Cappa.
"Earl played really well. Earl didn't have a problem. He could've played better in the running game," Arians said. "[Replacement right tackle] Josh [Wells] – he got a holding penalty when Jameis came out of the pocket and got him a holding penalty. His only bad play was the sack-interception, but he played as expected. I didn't think they were going to go out there and just set the world on fire, but they didn't play bad."
That's impressive (if you believe it) for the Bucs to have two no-name dudes step in as starters and thrive. Again, if you believe it. The phone must be ringing off the hook at One Buc Palace for Watford in advance of the Oct. 29 trade deadline. Cheap, effective backup offensive linemen are hard to find. And Watford played "really well" against a stout Carolina front.
Joe got through nearly three full quarters of film on Watford and threw in the towel. It's not pretty, but if you had a low bar, then yeah, maybe Watford did play "really well."
Perhaps undrafted rookie free agent Zack Bailey was going to be a good backup guard, but he landed on injured reserve this month. The Bucs don't have young depth on their offensive line. Add that to next year's list of needs.