The NFL's Very-Deep Ball Leader
October 30th, 2019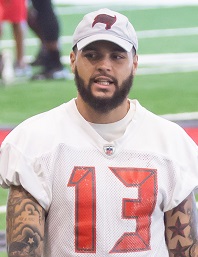 It takes little effort to learn who is the clear cut NFL leader in receptions of 40-plus yards this season.
Perhaps you're thinking this receiver could never be a Buccaneer hauling in passes from America's Quarterback, Jameis Winston?
Regardless, the receiver's name is Mike Evans, and he's the NFL leader with six catches of 40 yards or more this season. Marquez Valdes-Scantling of Green Bay has five and then the list flows down from there. For those wondering, Chris Godwin has none.
"He can't do it without Jameis throwing the ball really well. And they've done a great job connecting on the deep ball," Bruce Arians said on WDAE radio yesterday.

"I think it's outstanding. You know, if he's missing, it's not by much," Arians said of Jameis' deep-ball this season. "There's some hand-fighting going on down field at times. You know, I thought we maybe had Brashad [Perriman] down field one time. Jameis has been spot-on down the field."
Arians went on to say the intense offseason focus on improving Jameis' deep ball is paying off.
"It was a big part of the spring. It's something we work on every single day. When we're going full speed, we're going to throw deep balls. And Jameis has been really good with it."
Fans might also remember that precision deep throw to Evans in London, more than 50 yards in the air, that was dropped by the best Bucs receiver in history.
Too bad historically bad turnover and fumble numbers are close to taking down Jameis' career.