The Divide At Headquarters
October 17th, 2019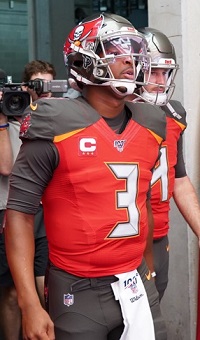 Regular readers here likely have realized there's a divide at JoeBucsFan.com world headquarters when it comes to the quarterback position.
One Joe thinks Jameis Winston, America's Quarterback, is getting unfair criticism as the QB whose team leads the NFC in scoring.
The other Joe thinks that stat should make any fan take pause but finds it conjures up the old saying: "Don't piss in my face and tell me it's raining."
The reality is that Jameis is a highly inconsistent, turnover-prone quarterback with a penchant for losing; it's been that way through his career. And that's exactly what you don't want in a quarterback.
Cut the turnovers and play smarter. That's been the goal with Jameis since the clunker he dropped in his NFL debut against a bad team.
He hasn't figured it out into his fifth season.
Throw out Jameis' terribly ugly game last Sunday and toss out his special gem against the Rams. Put them in the dumpster. Those were anomalies and polar opposites. What do you have left? An inconsistent quarterback who was poor on opening day, played two good games and was jittery and meh in New Orleans.
The Bucs have exactly what they had in January, a very talented and overall very average starting QB, who is now struggling under what is widely considered elite coaching.
As for Jameis' intangibles, the valuable leadership Jason Licht crowed about for years and that Bucco Bruce Arians thought was so special? There's no evidence it exits.
Joe believes Jameis is an intelligent guy. It's why Joe thinks it's reasonable to think Jameis likely has reached his NFL ceiling. When you're smart and put in the long hours, and this is the result, there's little reason to think you'll get much better — at least not in the same environment.
That goes for any player.
Sure, give Jameis the rest of 2019 to right his personal ship and mature. See if he can develop consistency and earn a franchise tag for 2020. But if Bucs officials aren't turning over every rock now to find their next quarterback, then they'd be total morons. And that's as obvious as all the points and turnovers on the scoreboard.
About half of all first-round draft picks disappoint their teams. That's the NFL. There should be no fear of searching for or developing a replacement.