Quarterbacks And The Bucs Pass Defense
October 29th, 2019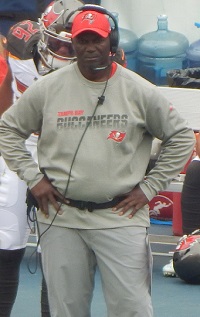 What do the Bucs have in common with the Patriots, 49ers, Ravens, Lions, Bills, Jaguars, Packers, Saints, Panthers, Titans, Eagles, Rams and Broncos?
The common thread is that those teams' defenses are allowing opposing quarterbacks to complete less than 64 percent of their passes.
Didn't think the Bucs would be on that list, did you?
Joe would be excited about that area of improvement except the Bucs have faced Daniel Jones, Ryan Tannehill, Kyle Allen, Teddy Bridgewater and a broken Cam Newton through seven games. That's a special gift from the football gods that doesn't come around every year.
And yet somehow, the Bucs have locked down a 2-5 record while their own quarterback has completed just 58.2 percent of his passes, second-worst in the NFL among starters who have not been benched.
Still, the Bucs have managed to improve from allowing a league-high 72.5 percent completion rate last season, and they were horrible in that area in 2017 and during the Lovie Smith regime.
That's at least something.