Production Fade Vs. Real Impact
October 21st, 2019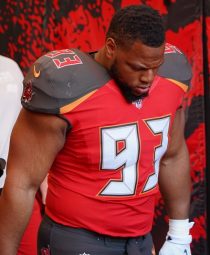 Some might call this a Gerald McCoy story.
But it's actually a peek at the steep statistical decline of Ndamukong Suh since he put on a Bucs uniform.
The folks at One Buc Palace will tell you Suh is having a powerful season, that he's the consummate professional and has been a consistent force in the run game and pushing the pocket.
Ok. Joe's not calling Suh the next Chris "Swaggy" Baker. He's playing a lot and has put good stuff on film. But Suh is on pace for several personal lows when it comes to production:
He's on pace for 30 combined tackles this season (solo tackles + assists). If that holds, it would be the lowest season total of his NFL career. He had 59 last season.
Tackles for loss? Suh has one this season and, yeah, he's on pace for the lowest season output of his career.
Sacks? Suh has half a sack through six games. You guessed it; he's tracking for his worst season there.
Tackles for loss? He's got 1. (See sacks)
QB hits? Suh is on pace for 10. His previous lowest was nine in 2011 when he missed games due to a suspension. With the Rams last year, he had 19 QB hits.
It's not like Suh isn't getting help. Vita Vea has had a strong season and Shaq Barrett is drawing a lot of attention.
So why is Suh's production lacking in so many areas? There is no exact answer, but Joe's not drinking the Kool-Aid yet on Suh having a strong season.