"One Of The Things You Take Pride In"
October 4th, 2019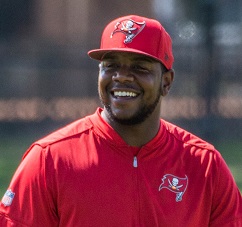 As Joe noted immediately after Tampa Bay leveled the Rams in Los Angeles, Byron Leftwich, the Bucs offensive coordinator, outcoached the iconic defensive guru across the field from him, Wade Phillips.
Joe has to give Leftwich an A- through the first quarter of the season.
The offense has scored points, moved the ball and remained balanced. though some might call it a little run-heavy. The Bucs have the fifth-most rushing attempts in the NFL. The offensive line is playing harder and Joe can't blame Leftwich for the kicking nonsense that closed the senseless loss to the Giants.
Bucco Bruce Arians was asked today about how the offense has come out and scored touchdowns in game-opening drives. Those are usually scripted based on the coordinator's scouting of the opposing defense. Arians noted and praised Leftwich for getting the Bucs on the board quickly. "As a playcaller, that's one of the things you take pride in," Arians said.
Will it continue? Joe sure hopes so. Over time, Leftwich was have more of a playcaller resumé out there for defensive coordinators to scrutinize.