"Now We'll See If We Grew A Little Bit"
October 1st, 2019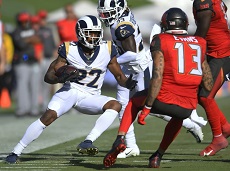 Coaches always talk about "situational football" and the Bucs ran into a rare situation against the Rams on Sunday.
It was the kind you can't coach in training camp.
It was halftime and the Bucs had rolled up a 28-17 lead on the defending NFC champs on the road. At that point, it was time for the Bucs to man up and do what they couldn't do at home the previous week, close out a fat halftime lead.
"Now we'll see if we grew a little bit," head coach Bucco Bruce Arians told sideline reporter Laura Okmin at halftime.
Joe found that to be a telling line from Arians, and probably a window into how he views his roster: talented but raw and very inexperienced in the art of winning.
Arians went on to repeat the growth line a couple of times at his news conference yesterday, adding that now the Bucs should know "talent's not an issue."
Were players questioning that? That's unclear, but regardless, it's a very strong public message when the head coach tells the world you have the talent to beat everyone. Like Dirk Koetter before him, Arians has said many times that talent is no issue for his club.
The Bucs now should be a confident team, and they're certainly talented enough to survive their next four road games before returning home Nov. 10.
Optimism is flowing everywhere, but Joe would be just fine if the Bucs found their way from 2-2 to 4-4. And then the next immediate growth area would be establishing a real home-field advantage, which most teams have. Only four NFC teams last year had a losing record at home, and the same was true in 2017.