No Takers
October 18th, 2019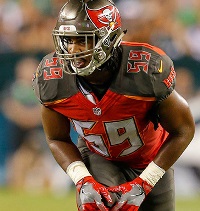 Time has passed and three recent Buccaneers remain unemployed.
And no, Joe's not talking about Jacquizz Rodgers, Charles Sims and Doug Martin.
Joe was waiting to see what happened after veteran defensive back Deone Bucannon, a former first-round pick, was cut last week, along with the launching of receiver Bobo Wilson and veteran linebacker Devante Bond this week.
What happened was nothing.
All three were not bottom-of-the-roster guys entering the season. They were expected to contribute and Joe would call them bottom third of the roster guys as the season kicked off.
And now they're unemployed.
This doesn't speak well for the offseason evaluation at One Buc Palace. Throw running back Andre Ellington into the same category.
Bucco Bruce Arians swore up and down that "talent" would not be an issue with the Bucs. They had enough talent to win, he said. He also called the 2019 Bucs a more talented revival project than his 2013 Cardinals, a team that jumped from 5-11 to 10-6 when Arians took over.
In case anyone was wondering, former Bucs turnstile guard Caleb Benenoch, a September cut, is on the Panthers but was inactive last week.