Jameis And The Pick-6 Club
October 4th, 2019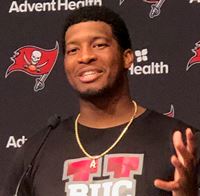 Want to know how wacky this Bucs season has been?
America's Quarterback, Jameis Winston, has thrown three pick-6's in four games and he's being heralded for stellar play. Who could have predicted that in August?
With a fourth-quarter pick-6 against the Rams on Sunday, Jameis tied teammate Blaine Gabbert on the all-time list with seven.
What a loser!!! But wait a minute, those seven career Jameis pick-6's place him three behind Cam Newton, who has 10. Matt Ryan has 16. Mighty Drew Brees has thrown 27. That's tied with Peyton Manning.
Brett Favre is the all-time leader with 32, three ahead of Dan Marino. Yes, Marino threw 27 pick-6s.
Joe is painting a picture here, but don't get confused. Not every great quarterback has thrown a lot of touchdowns to the wrong team. Hall of Famer Steve Young threw just four in 143 starts. Russell Wilson has just three since entering the league as a starter in 2012.
Joe hopes Jameis has gotten the pick-6s out of his system — at least for 2019.