Is John Lynch Setting The Table For Derrick Brooks?
October 8th, 2019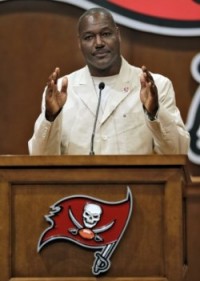 What NFL fans saw on Monday Night Football yesterday was the 49ers completely dominating a talented Browns team to move their record to 4-0.
The Niners defense was suffocating, especially on third down. The running game was dominant and balanced between two backs, and the quarterback play was on point. The 31-3 final score could have been more if they didn't miss three field goals.
This intrigued Joe because Buccaneers legend John Lynch is the 49ers' third-year general manager. Lynch walked into a dumpster fire when taking over after the 2016 season, when San Francisco finished ranked 31st in offense and 32nd in defense.
Lynch proceeded to fleece the Belicheats for QB Jimmy Garoppolo, who is now 12-2 as a starter, then he put his foot down when it came to building a lethal defensive line and a running game. And now it's all coming together.
Obviously, many moves were made, good and bad. But many critics looked at Lynch getting the GM gig as a misguided gift because the guy had no experience in football personnel. Earlier this year, Lynch acknowledged the Buccaneers and Broncos, his former teams, were really the only other clubs he had interest in leading.
Who does Lynch consider a trusted voice that he talks football with regularly? That would be Mr. Derrick Brooks. Sage JoeBucsFan.com columnist Ira Kaufman wrote a story about it last year.
NFL owners are all about trends that work, and this is the time of year owners of brutal teams start thinking about changes in their executive suites. The more Lynch succeeds, the more Brooks — and other ex-players — might attract interest for GM jobs. Brooks got hands-on personnel and football management experience with the Tampa Bay Storm, and he is dialed in to the NFL as an active appeals officer in conjunction with the players union.
Joe enjoys seeing former Bucs greats thrive in whatever capacity that might be. Heck, Joe even cracked a smile yesterday watching a replay of Chucky's young Raiders compete with so much fire against the Bears.
It'll be interesting to see how Lynch, if his success continues, changes the NFL hiring landscape.